i'm really really glad it's the holidays. u have no idea how much i yearn for holidays. i tot those days will never come. omg. i'm so freaking happy!!!!!!!!!!!!!!!!!!!!!!!!!!!!!!!!!!!!!!!!!!!!!

so btw, let's recap what i did during the last few days of uni..
well, actually, basically, i had this stupid food service management assignment to work on n it was really killing me. i am really struggling this semester. sigh* the weather in brissie is really bad at the moment, freezing cold and raining  every day and for god sake, it's autumn!! it's not even close to winter yet!!! lol it's so funny that almost every retail stores are selling winter stuffs now... lol.. super weird.
so, due to the stupid weather, i caught a bad flu, n only started to feel better today. kind of. i guess. i need to be since i have 4 days of work consecutively.... well, dun be sorry for me. cos i will be paid X2.5 muhahahhahaha.... =-= yes!! money money :)
so back to my stupid assignment. i've sacrificed so much for this assignment and i really hope that my hard work will pay off.  everyone in my group worked hard as well, so we deserve to get good marks. spent countless nights researching on menus n food related stuffs, n god knows how many V drinks i had during my assignment process. phewwww. the final outcome was pretty good and i'm proud with everything that we've done in such a short period :) finger crossed* that we'll get a good grade for it :)
a day before the assignment was due, me and cindy and edward worked on our assignment for nearly 7 hours. since we were nearly done, we went for a dinner break in Cyber at the Valley. it's been a while since i had dine in cyber... i think the last time i ate there was probably when pei kei and alvin came to brissie. i guess. lol. wowww..
CINDY!!!!!!!!!!!!!!!!!!!!!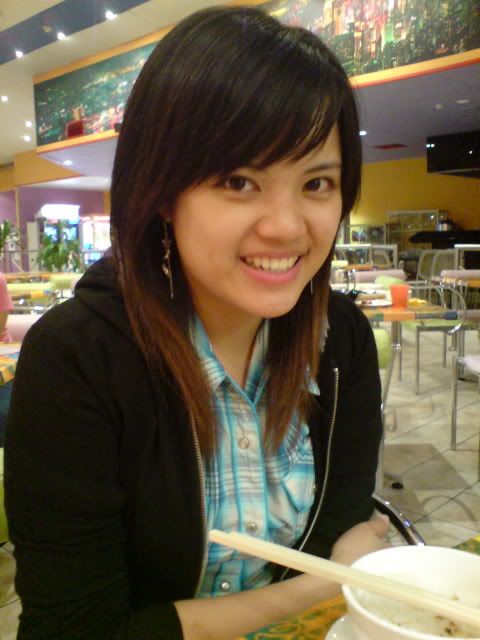 the food that we ordered.. simply nice:) miss chinese food dearly
no pics of myself cos i looked like a sick nerd. lol..
so..the next day, i did some minor changes for the assignment and printed everything off and it was pretty thick. =-= i bet the lecturer won't be pleased when she sees our assignment. lol.. and after handing it up, i decided to go to the city to relax and unwind for a while.. it's been weeks since i last went to city without the feeling of stress and guilt. it felt so awesomely good..
although the weather was terrible and i was still having a minor flu, .. i wasn't really bothered by em...
anywayz, after window shopping for a while i decided to meet up with ubi and we went to south bank to catch a movie...oh  yaaa , i did manage to get myself an easter egg!!!!! :) large chocolate easter egg covered with sparkling purple colour wrapper. :) so pretty isn't it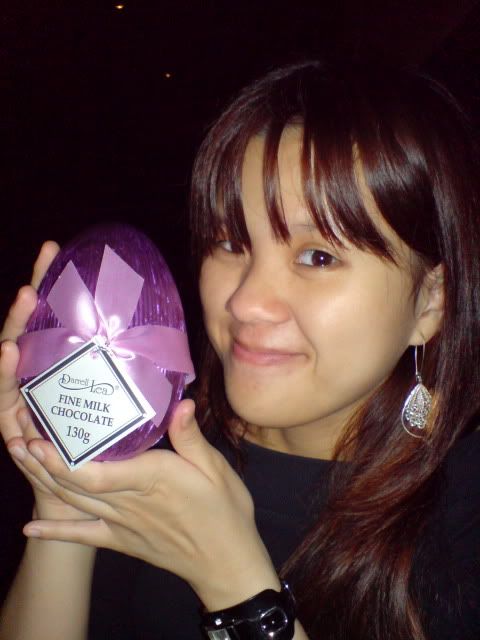 i looked like crap.=-=' i was sick k?
fast forward..

we got the tickets early and we have some time to kill before the movie starts... so we decided to go for a drink in Batavia. i miss batavia soo much.. their chocolate drink is the BOMB!
 i had chocogatto..
steps to make the perfect chocogatto :
(1) left: hot chocolate right: 3 scoops of vanilla ice cream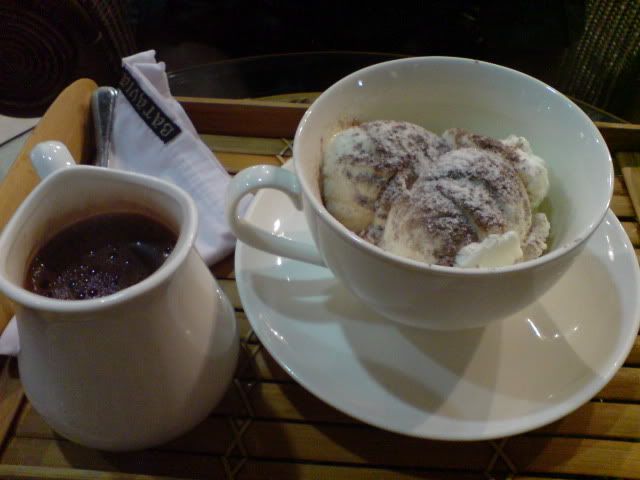 (2) pour the hot chocolate into the ice cream slowly.. 
(3) stir the mixture thoroughly..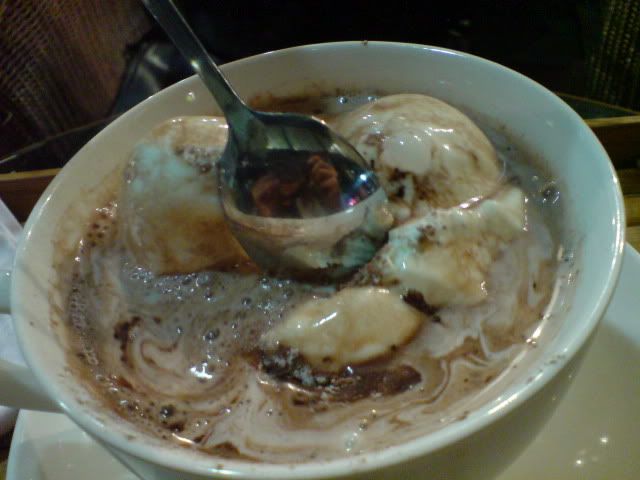 (4)taaaddaaa it's ready to drink~~~
I looked like as though i'm drinking a bowl of soup LOL

drinks afterwards, we went to watch Aliens VS Monsters. IT WAS SUPER ENTERTAINING and FUNNY!!!!! i really like the jelly dude.. lol.. high recommended for anyone who wants some silly laughs lol.. :) 
oh did i mention that all of these happened yesterday and the day before yesterday? =-=